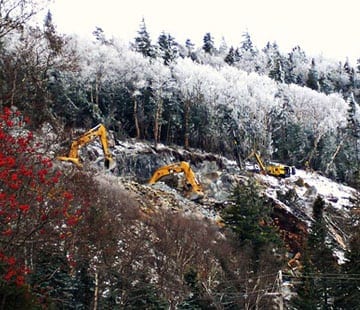 Few contractors in the United States can equal G.W. Tatro's level of experience when it comes to trail design and construction. For over sixty years we have been doing trailwork at some of the most premier resorts in the East, and we've built some of the best trails, too: including World Cup trails.
This company has had major mountain projects up and down the East Coast. We have done work at almost every ski area in New England. Our Mountain Director alone has worked at over 60 ski resorts! In addition to ski trail construction, we also have tackled several zip line projects! We have a reputation of being able to tackle both the steep and difficult trailwork with a proven track record of delivering on-time and on budget. Whether you are looking for a gentle green trail or something a little more breath taking, G.W. Tatro will can deliver the full package.
Our Project Managers and Equipment Operators take a personal pride in being able to leave a product which is not only enjoyable but minimizes snowmaking requirements and is environmentally stable. The thrill of the trail in winter is as important a endorsement as the decades of testimonials we have received from our clients. Our work is etched indelibly across the mountains.